Our state-of-the-art rehab gym includes a simulated home environment with kitchen, laundry, and bedroom areas for practicing the essential skills needed for a safe transition home.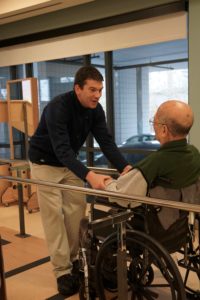 Physical Therapy
Our physical therapists work to keep you moving safely and more independently.
Services Include:
Therapeutic exercises for strength, flexibility, and range of motion
Fall prevention and recovery
Functional mobility including gait, balance and wheelchair propulsion
Energy conservation training
Pain and edema management
Assistive devices to increase independence and function
Balance retraining
Cardiovascular and cardiopulmonary rehabilitation
Vestibular rehab
Full complement of OT and PT modality treatment including diathermy, ultrasound, and electrical stimulation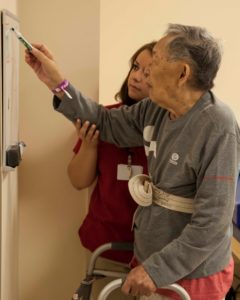 Occupational Therapy
Our occupational therapists focus on increasing independent function in daily living skills.
Services include:
Teaching strategies to regain independence and promote safety
Gross and fine motor muscular re-education
Therapeutic exercises
Splinting and orthotic assessment and contracture management
Adaptive equipment recommendations & training
Seating and positioning recommendations
Edema control for upper extremities
Home evaluations and home management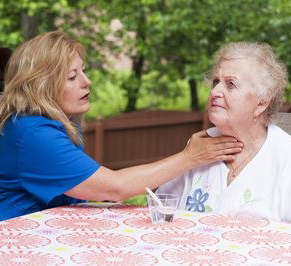 Speech Therapy
Speech-language pathologists focus on improving communication and swallowing skills.
Specialty areas include:
Dysphagia evaluation and treatment
Oral- motor strengthening
Strategies for living with dementia
Augmentative and alternative communication training and strategies
Cognitive retraining