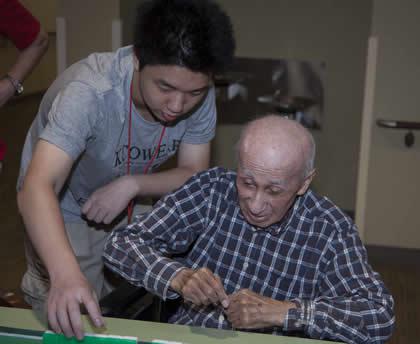 Volunteers enrich the lives of residents through providing companionship and assisting with recreational activities. Volunteers give back to their community while gaining valuable experience and the satisfaction of helping others.
Volunteers positions are assigned based on the volunteer's interests and abilities. Do you enjoy singing? Playing an instrument? Reading? Writing? Discussing current events? Playing games? Our volunteers do all of those things and more!
For more information on volunteer opportunities, please contact Tammy Chen, Director of Recreation, at 617.237.3626 or tammy.chen@southcovemanor.org
Become a volunteer in just 3 steps:
Complete application materials
Meet with a member of our staff and bring requested identification
Attend new volunteer orientation
Requirements for All Volunteers:
Fulfill health screening requirements
Provide government identification
Clear CORI background check
Ability to understand the English language
Willingness to commit to a weekly or monthly schedule
Ability to navigate the building independently
Ability to assist in the event of an emergency
Student Volunteers:
Aged 14-17
Enrolled in school
After school, weekend and summer schedules are available
Click here for "Application"
Adult Volunteers:
Aged 18 and above
No educational requirements
Day, evening and weekend hours are available
Click here for "Application"